Travel smarter and save bigger this summer vacation
Spring flowers are in full bloom, which can only indicate one thing: summer is nearly upon us. For many, that means it's time for a well-deserved vacation with family and friends. In a year-end 2016 survey conducted by the Ohio Credit Union League, an overwhelming majority of respondents, 71 percent, are planning to get some rest and relaxation with a vacation this summer.
Whether heading somewhere new or traveling back to a family favorite, most Ohioans plan their vacations in advance, but at varying times – 34 percent plan six months to a year in advance, 31 percent plan three to six months in advance, and 15 percent plan one to three months in advance. And, while ample time to organize is important, budgets definitely play a role in those plans as well, with 70 percent of Ohioans surveyed noting the cost of the trip as a major influence on where they go for vacation. Other factors included travel distance, scheduling, and amenities or activities at the destination.
We all want and need downtime, but a large financial burden will long outlive the benefits of a vacation. In 2016, households likely to take a vacation spent $1,798 on average, up roughly 11 percent from 2015, according to Condé Nast Travel. In addition, a survey conducted by ValuePenguin noted that the typical vacationing family spends 44 percent of their travel funds on transportation.
Since many vacation decisions are driven by cost, here are a few tips to spend wisely when you take those hard-earned vacation days.
Scheduling matters: When planning low-cost trips, timing is everything. To save money booking accommodations, try traveling during an off-season or even a few weeks before peak-season starts. If you're booking airfare, do so at least a month in advance, if not earlier. Airlines price their flights differently depending on the day of the week, so use an airfare tracker site or app, like Hopper, to keep up with changes.
Travel smart: Many vacation destinations take advantage of the naiveté of travelers, so tourist hot spots may be higher priced than smaller, locally-owned places. Do your research before deciding where to say, what to eat, and what activities you should embark on and you'll likely save during your trip.
Use rewards: Even though you may not consistently travel, airlines, booking services, or even your credit union's credit cards may offer rewards points that can be redeemed for airfare or other vacation expenses.
Set aside a little at a time — If traveling is important to you, make room for vacation savings in your annual or monthly budget. Use your local credit union to open a savings account specifically for vacations; credit unions are also a great resource to consult if you're looking for ways to save and budget for vacation.
To learn about credit unions in your community and how they can help you afford life, visit www.aSmarterChoice.org.

Simple tips to follow to maintain spending during the holiday season.

Now, more than ever, it is very important to protect your identity. Follow these 8 tips to help prevent ID Theft.

Credit doesn't have to be complicated. Here are 6 tips to follow for an almost perfect credit score.

There is a lot to think about when it comes to buying a home. Here are 5 secrets that first-time homebuyers need to know.

Planning for college isn't easy, so we've come up with 8 tips to help parents and teens stay within their budget.

The best strategy for back-to-school shopping is to start with a plan. Make a list of supplies you will need before you start shopping. Here are tips that will help cut down on expenses.

How to plan a close-to-home vacation on a budget.

It's hard to cut back on your wasteful expenses when you don't even know what they are. How can you figure out new ways to save? Start by setting and monitoring a budget that works with your lifestyle. Check out these budgeting tips and start saving now!

Improve your finances with six simple steps. Everything from understanding your credit score to creating monthly budgets are easy ways to get your finances in check.

After graduation, you don't want to be drowning in student loan debt on top of all the new expenses of starting out. It is important to find a loan that is best suited for your needs, so start your research now! We put together a student loan survival guide to help you get started.

Setting a budget is important, but making sure you've included all of your expenses is crucial. Want to be sure you don't go over budget? Include costs that cover all aspects of like, not sure monthly bills and weekly grocery trips. Check out these elements that are usually forgotten when setting a budget to ensure you don't make the same mistake.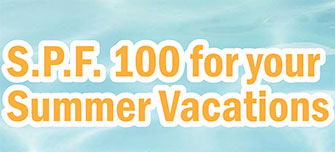 As summer approaches it's time to start planning that summer vacation. Whether you are driving or flying there are always ways to save. Check out these tips to make your summer travel a breeze.

Your financial health cannot be measured by a single factor, instead it's determined by a number of elements. How financially healthy are you? Look at these questions to get a feel of your current financial health. If your answers are unclear, it might be time to develop a new financial plan.

Wouldn't it be nice if you could easily get rid of debt? Well, it might be easier than you think! Check out the Snowball Effect approach and learn how to melt away your debt.